Sweater// Earrings// Jeans
( note: Jeans are only $40- different lengths available. wearing a 28×30. I sized up from my normal size 27. They didn't have that size, so I went up and I'm glad I did!)
Hair Care Products and Routine
This post has been a long time coming! I get a lot of questions about my hair and what products I use, so I am going to share my current hair care products and routine!
1. Shampoo and Conditioner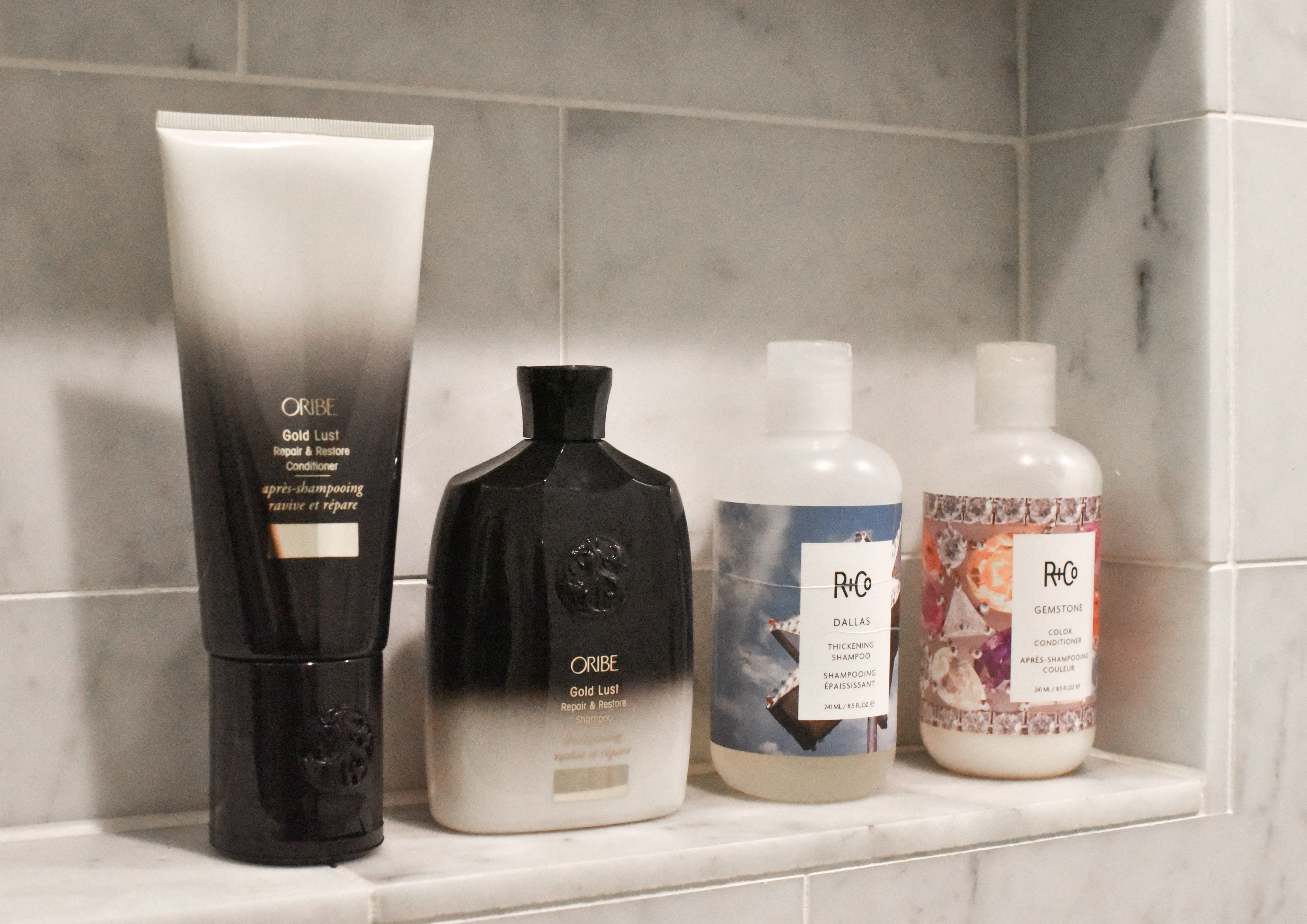 Left to Right:
Oribe Gold Lust Conditioner– These are a little pricey, but worth it! They make your hair feel amazing!
Oribe Gold Lust Shampoo– Again, love this Oribe line and a little goes a long way!
R+Co Thickening Shampoo- Great shampoo– I use these periodically to switch up my products and prevent the products from loosing its effect.
R+Co Color Conditioner– I have colored hair, so this just adds a little extra protection for color treated hair.
I use two different brands. Oribe and R+Co. I use Oribe as my main products, but I will use R+Co to give my hair a break and prevent my hair from becoming used to one product and thus, loosing its effect. I kind of "shock" it with other Shampoos and Conditioners. I find this can happen with other products too and not just shampoo and conditioner. I love trying new products and will constantly be switching up what I use.
2. Brunette Color Treatment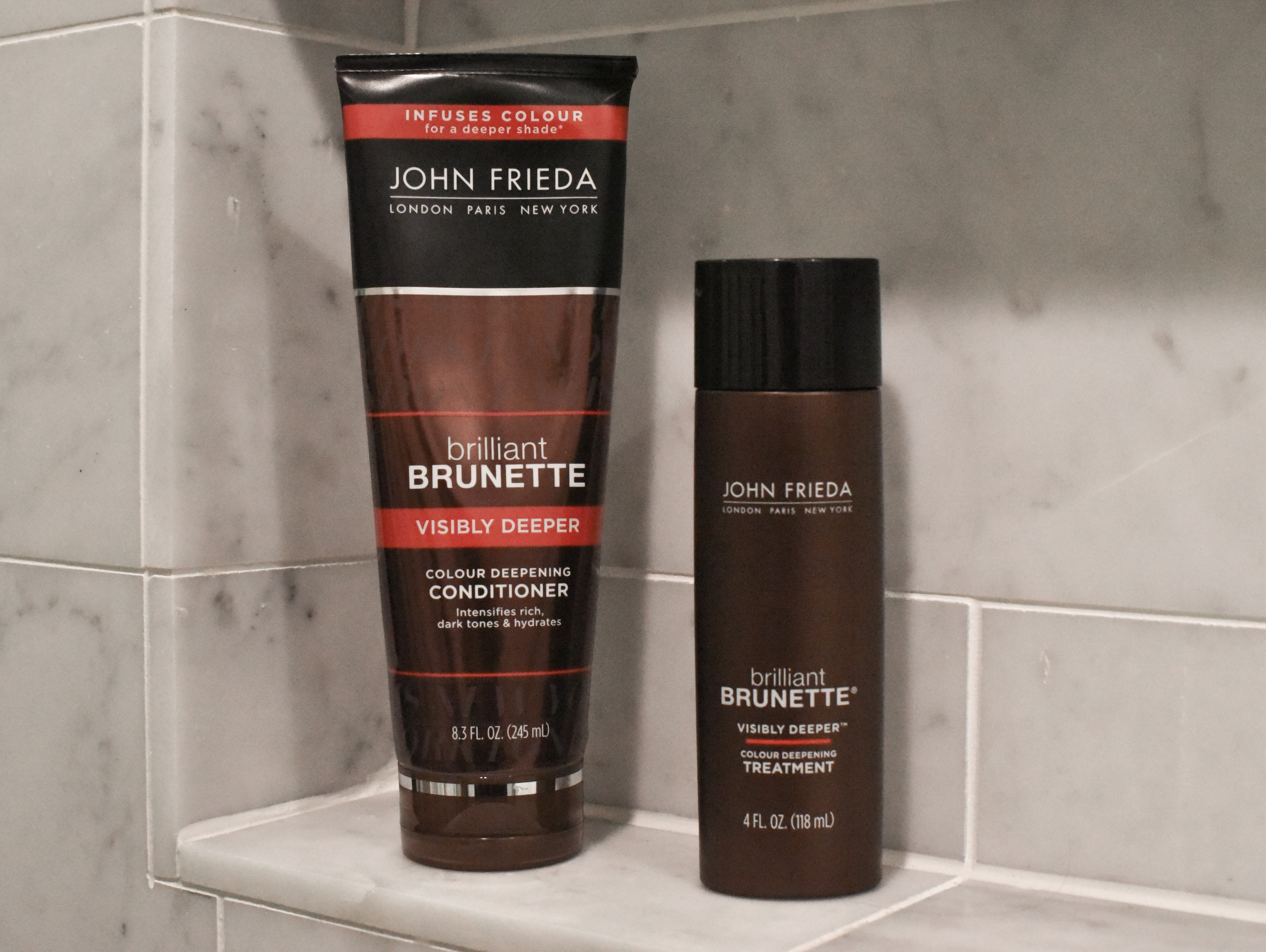 Left to right:
John Frieda Brilliant Brunette Conditioner– After my Oribe Shampoo, I will use this to bring out some deeper brown tones. I find using with the color deepening treatment work best
John Frieda Brilliant Brunette Color Deepening Treatment– I use this after the conditioner and leave on for about 10 minutes before I rinse out.
I have some highlights in my brown hair, and sometimes I find that the blonde starts to show through a little much. So occasionally I will use these two products to bring out the brown hues and add a little darker color to my hair. This is not color, it just brings out some of your brown tones. I use the conditioner and then I will use the color deepening treatment and leave that in for about 10 minutes to really develop the color. I also find that the more you use it, the more you will notice a difference.
3. Products In towel dried hair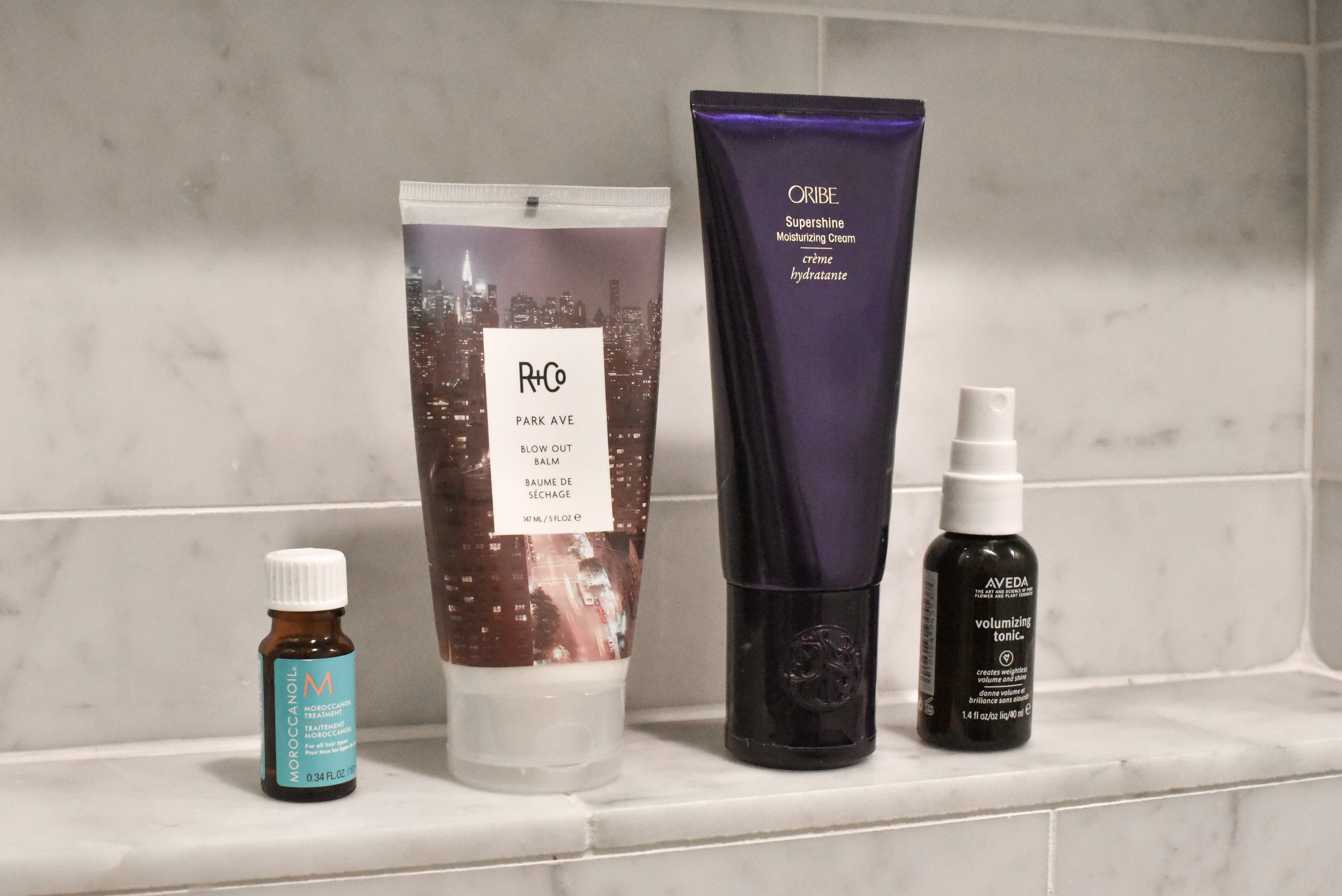 Left to right:
Moroccan Oil: This is just a sample I received with a purchase, but I have been use a small amount on my ends and about half way up my hair when my hair is wet. I've really liked it so far!
R+Co Blow out balm: I use this on towel dried hair form my roots to about half way down my hair. It protects my hair form heat and give a nice blow-dry.
Oribe Supershime Moisturizing Cream: I LOVE this product. I use it on wet hair on my ends. I use about a pea size amount. It it essentially a leave in conditioner that doesn't weigh down your hair.
AVEDA Volumizing Tonic: I also recently received this sample with purchase and it has been awesome! I spray some in my hands and work through my roots. Definitely helps with volume!
It may seem like a lot to put in your hair, but as long as you don't use too much, then it will not weigh down your hair! After I put all this product in my hair, I use a microfiber hair towel for an hour. Keep reading!
4. Microfiber hair towel- the key to soft hair!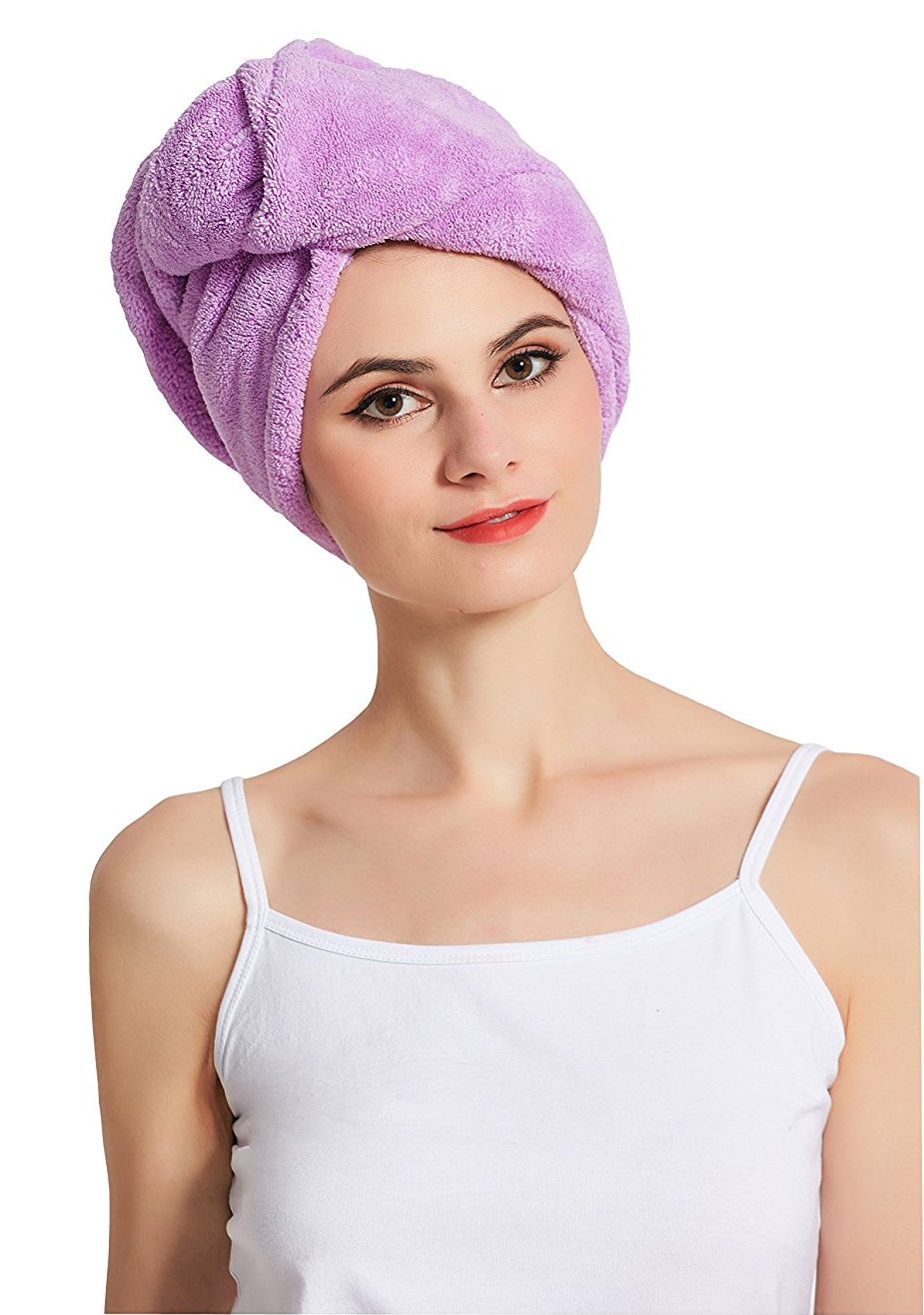 *this is not me, pic from Amazon* 😉
After I put all those products in my towel dried hair, I wrap my hair in a hair towel and leave it like that for at least an hour. This helps the product soak in (especially the leave-in conditioner) and lets your hair dry a little on its own before I use the hair dryer. This makes my hair SO SOFT!  Because I leave my hair in the towel so long, I usually only shower at night since I don't have that much time before I head to work!
5. Tools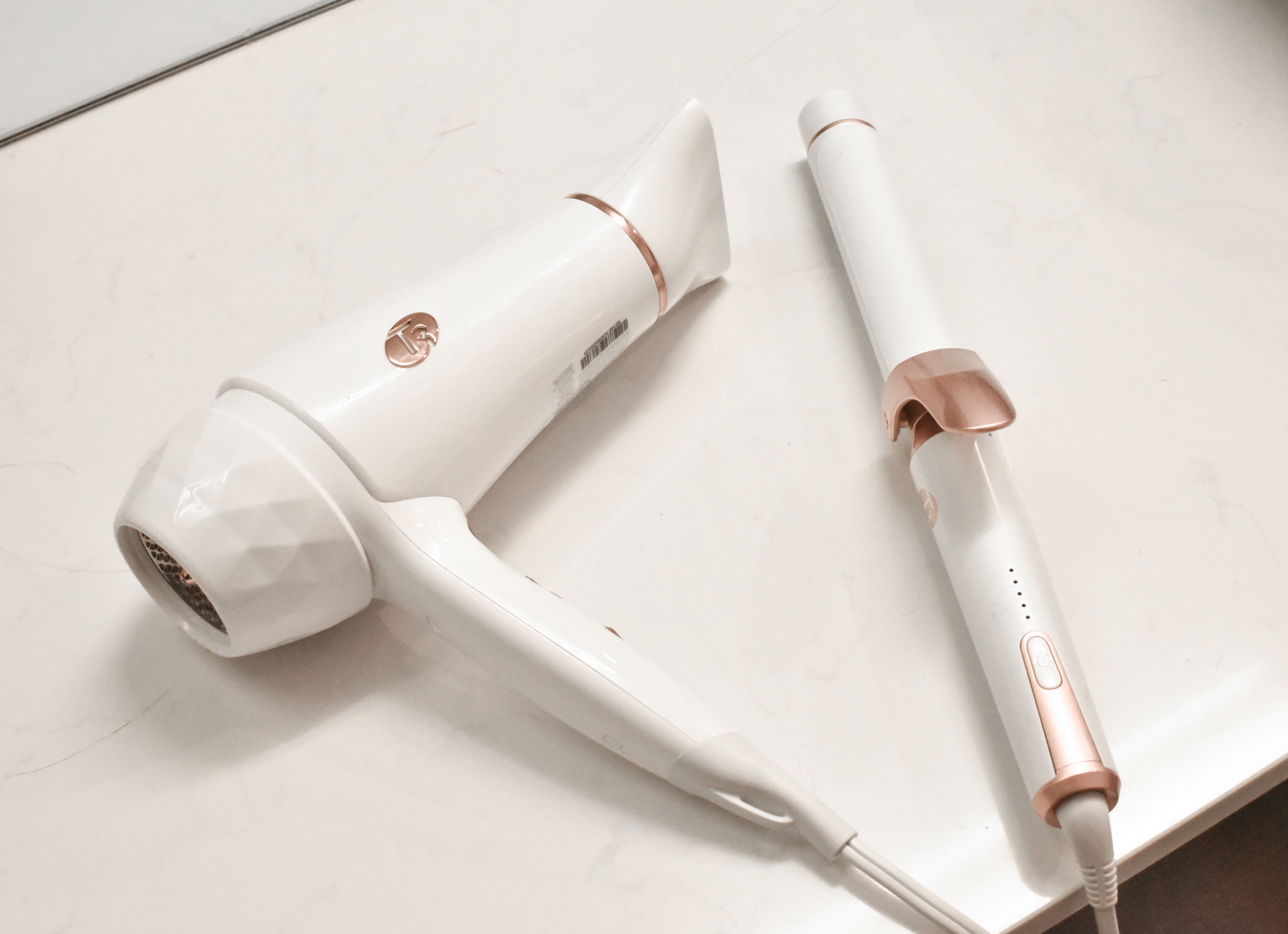 I love T3 products and these are my favorite to use! I use the 1.25″  barrel but I don't use the clamp. I just wrap my hair around it like a curling wand.
6. Extensions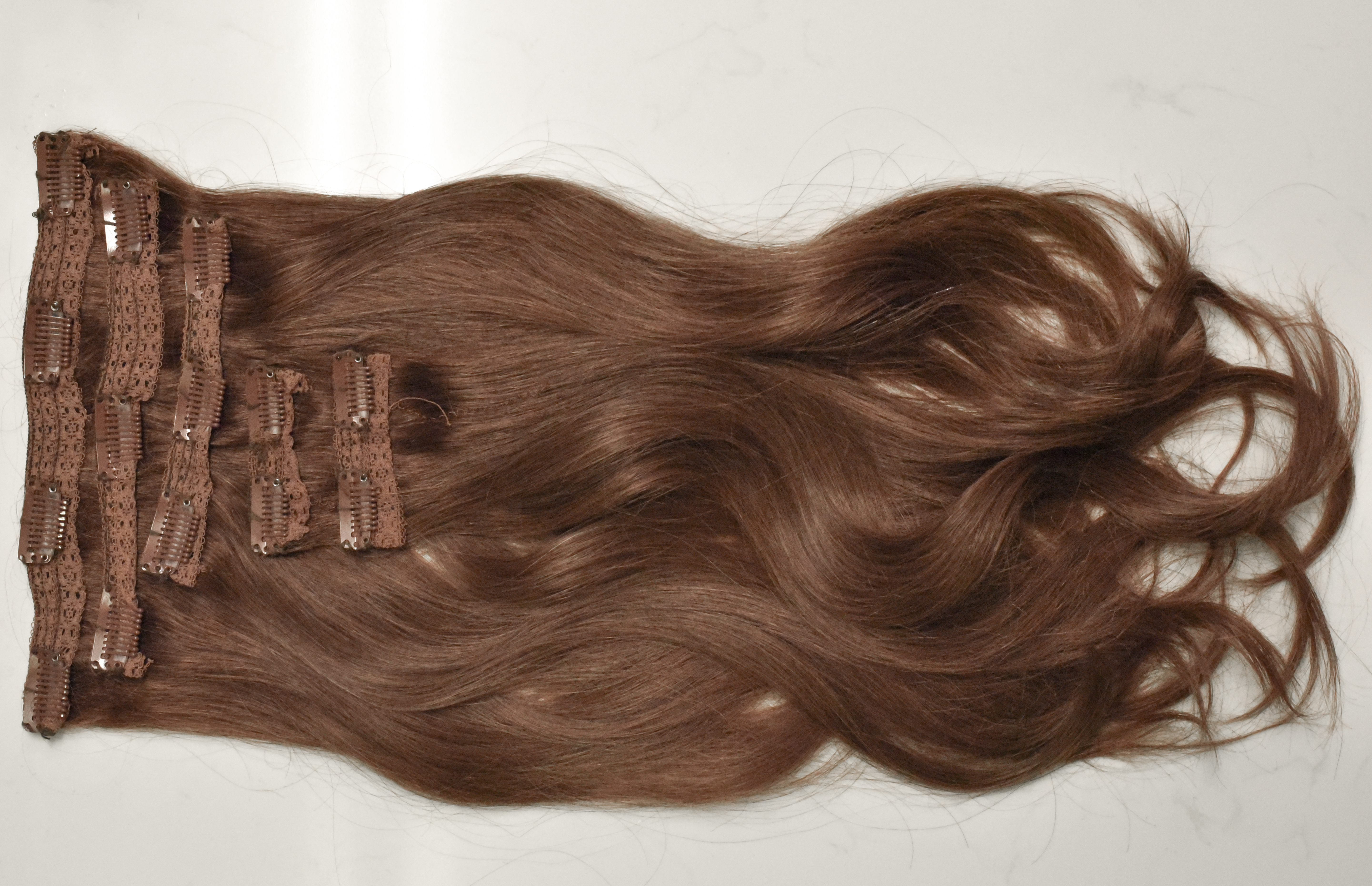 I use the Hair Couture Lengths 7pc set 18″. I'm not sure what color I have because I've had them for quite a few years, but I recommend going into an extension store to match your color! My hair is naturally as long as my extensions, but they just give me a little extra volume. I don't use them every day, but I am usually wearing them for photoshoots.
You can also check out my post herefor some tips on clip in extensions!
7. Finishing products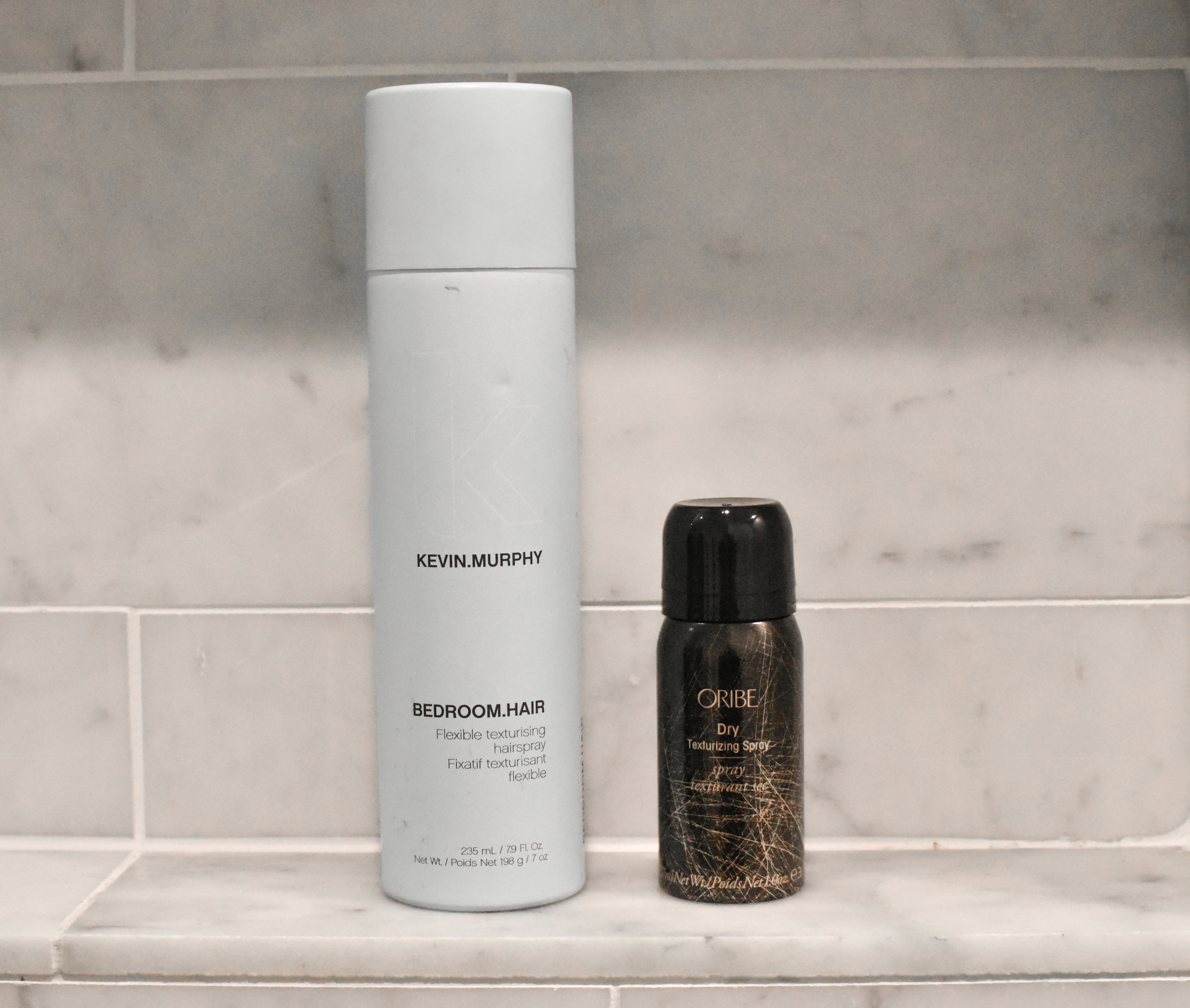 Kevin Murphy Bedroom Hair: This is probably one of the best smelling hair sprays I have ever used! But it doesn't just smell great, it is an awesome product! Really has great hold and I spray it before I tease my hair where I put my hair extensions!
Oribe Texturizing Spray: I have only used this product a couple times, but I am hooked! It is great alternative for dry shampoo and I use it in the same way! Just spray some on my roots and work in with my fingers!
All the products I just shared:

Let me know if you have any other questions or recommendations! I love trying new products!