Clip In Hair Extension Tips
Ok, so I have been wearing clip-in hair extensions for quite a while. I don't wear them everyday, mostly just for photo shoots, special events, or if I'm going out on the weekend…well, maybe kinda often. 😉 I use them for volume more than length, and I usually don't need all the wefts it comes with. I have compiled some info from my experience buying and wearing clip-ins over the years. This is by no means inclusive of every option or type of extension, but will give you a guide if you are interested!
1. Determine Your End Goal
Are you looking for volume, length, added color to your hair? Or a combination of any of those!? I was looking for more volume as my hair was already quite long, but I did get some extensions that were a couple inches long than my current hair, because…why not! 🙂 I also reccomend to always get real hair extensions, not synthetic.
2. Determine the Length
I measured my current hair length to see what I was working with. I measured my hair from just above my eyebrows to my ends. I had about 18 inches of my natural hair. I wanted a little extra length, so I went with the 20 inch clip ins. When you put the extensions in, you don't place them much higher than your eyebrow level, so technically this would give me 2 inches from there to the end. But you will place some extensions lower as well, so this will create even more length. See my before and after photo below.
Side Note: I measured the actual extensions when they came and they were about 20″ when curled slightly, and then even longer when I had them pulled straight. See this length guide.
3. Determine Color
This is always the tricky part. Irresistable Me has a video which shows you all their shades to help determine what will be best for you! I went with the Medium Brown in the Silky Touch Collection. They do have free returns, so if you get it and realize it is not the right color, you can exchange it. Just don't break the seal! There is one section of the hair that lets you take it out and compare to your hair before you open it.
4.  Determine the Weight
Other places might have different options for this, but I had 100g, 140g, and 200g to choose from in the Silky Touch collection. They recommend the 100g if you have thin or fine hair, and 200g if you have thicker hair and are looking for max volume. 140g is a great mid-range (and looking back, I would choose this). I got the 200g because I wanted huge volume! 😛 But it comes with So. Much. Hair! I don't even have room on my small head for all of it! Also, there is one piece that is very thick and quite heavy on my head. See below.
 4. Clip-In Hair Extension Tips
When brushing, be gentle and start from the ends all the way up. I also like to hold on to where the hair is sewn into the clips as I bush to prevent any extra hair loss to the weft from brushing. Don't be scared if the weft does shed a little, thats normal.
Wash your extensions as little as possible. My previous extensions, I have worn countless times before washing them. Since I am always wearing my hair curled, I just re-curl them when they fall flat.

If you do wash them, use a sulphate free shampoo and conditioner. Also, brush them and lay them flat to dry on a towel. DO NOT USE A HAIRDRYER. This will dry them out and shorten the lifespan. I also like to dab the ends lightly with a leave-in conditioner while they are still wet to maintain some of the moisture.

Use very minimal product-if at all. I only spray a light amount of hairspray over my whole head once I am done clipping them in.
Don't Sleep In the Extensions! This is very bad for them and they will get matted quickly! If you must sleep in them, first braid your hair all the way to the ends.
You can cut the extensions. But I would recommend going to your stylist to help you.
You can color them, but I wouldn't recommend it. The hair is chemically treated and coloured before you get it, so when you color it, it breaks up whatever has been done to them and shortens the life of the hair.
Don't place them much higher than your eyebrow level. Otherwise the track may be visible, especially if your hair is thinner to begin with.
See a tutorial for placing and clipping in the extensions here (start at 6:04 to see how to clip them)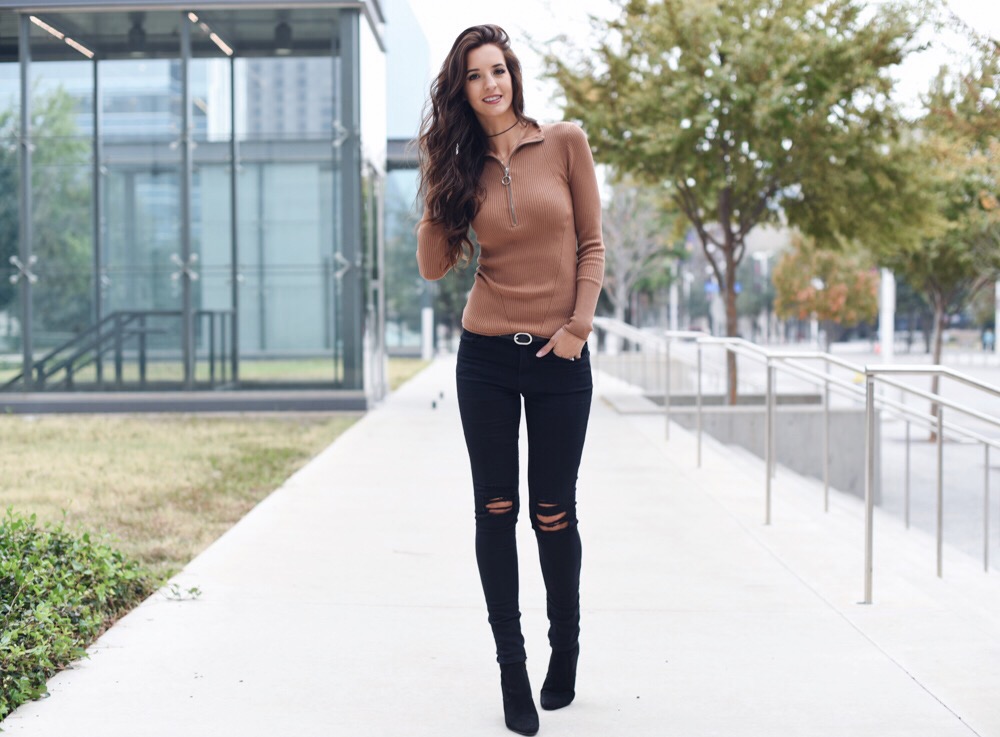 Top (similar), Jeans, Boots (love them soooo much), Hair
Final thoughts of the Irresistible Me Silky Touch Extensions
Overall I am very pleased with these hair extensions. The color was a good match and they were comfortable and easy to wear. My only thought would be that they shed a little more than my previous extensions, but I'm not sure if that is due to the fact that they are so much more thicker than my previous. If you are interested in these extensions, find them here.
My exact extensions were the 20″ Medium Brown Silky Touch 200g
Use CODE: MYVIEWINHEELS for 10% off your purchase
Thank you Irresistable Me for partnering with me for this post! If you have any questions about these or other extensions, please don't hesitate to ask!