Hi friends! Lets get to it! Here are my top 6 outfits from the Nordstrom Anniversary Sale so far!
Public access is on Friday July 21 at 2am CST! Start making a wishlist on Nordstrom now, so when the sale goes live, you can just hit "Add To Shopping Bag" and checkout quickly!
Note: If some items are out of stock, don't worry, they may go back in stock when public access goes live! So add them to your wishlist now and you can check on it tomorrow!
I will be doing an Insta Story try-on session tonight so you can see how things look in the video and  my comments. You'll be able to shop everything I try on with my Insta Stories page. Stay Tuned! Or Shop all my pick form he Nordstrom Sale here.
#1
Cardigan: Love this cardigan for only $31! I own it in 3 colors now! I sized down to an XS.
Pullover: Also bought this in 3 colors because it is lightweight and oh-so soft! Sized down to an XS
Jeans: So comfortable and worth the price. I am wearing a size 27 and my hips are 36-37″
Shoes: Bought these in two colors! Super popular with the bloggers and extremely comfortable! Wearing my normal size, although some people sized up a half size.
#2
Jacket:  Must-have for this season! Comes in 3 colors! Everyone says they regret not buying one after the sale! Wearing size Small.
Pullover:  Only $25! Same as the one above- my favourite! Sized down to XS.
Jeans:  Only $38! Such a great option if you are cost conscious and they are really comfortable! Wearing size 27 and my hips are 36″-37″
Mules: On sale for $50 and I love this grey! Wore them out even though its still summer! I sized up half a size and they fit great!
#3
Sweater: It can be worn alone or as a dress! I am almost 5'11 and it was quite long on me! It has a cool criss cross back as well! I am wearing a Small, although i would size down if you want it more fitted.
Boots: AH-MA-ZING! These are perfect boots for small calves and thighs! They fit really tight. Do not get these if you have muscular legs- they will not fit! I am wearing my normal 9 in boots.
#4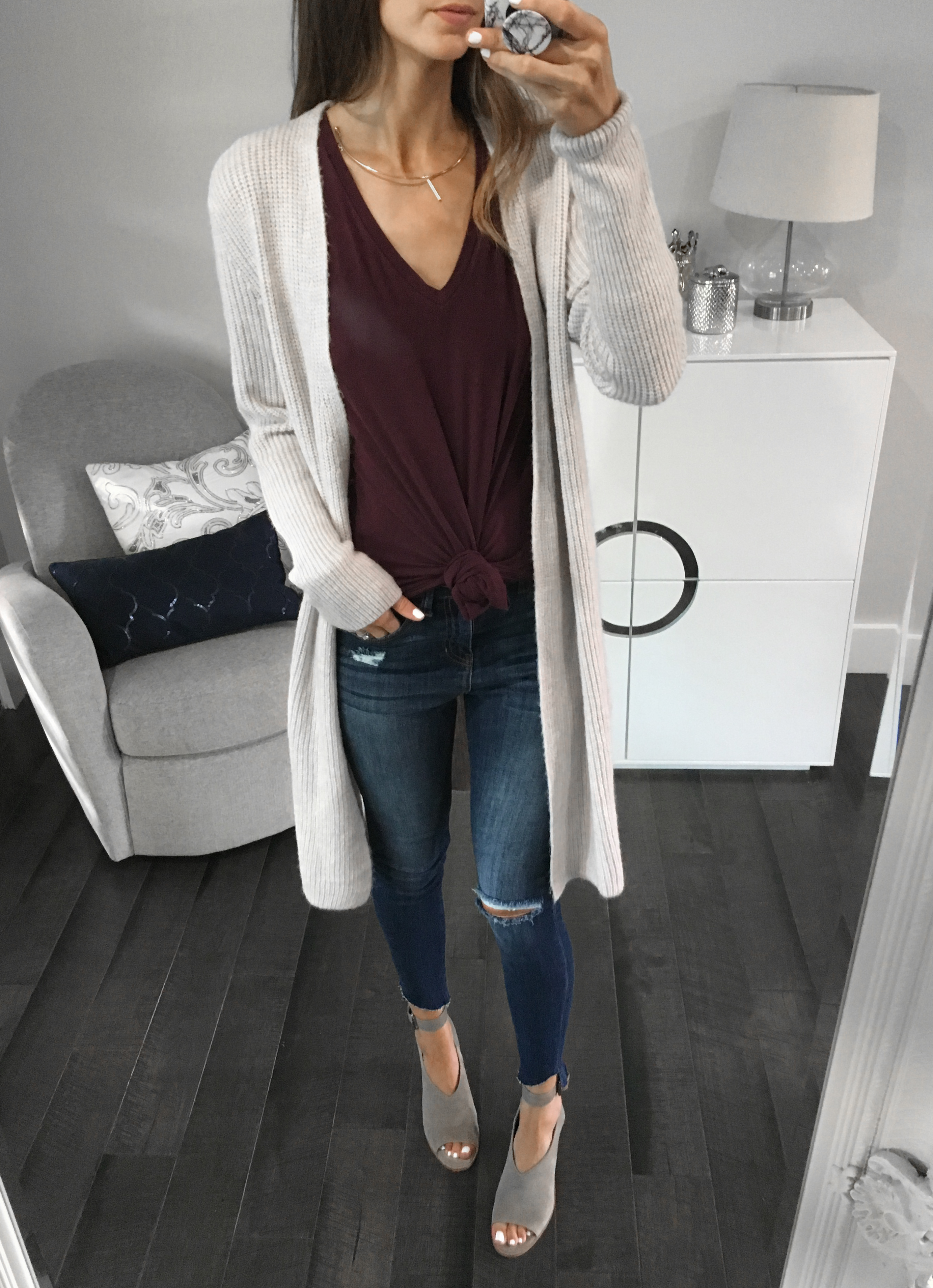 Cardigan: LOVE this cardigan! So soft and a little longer than some of the others. Wearing an XS.
T-shirt: Only $19! The must-have tee of this sale! Great basic and comes in lots of colors. I am wearing a Small.
Jeans: Again, best $38 jeans. Wearing size 27,
Shoes: Obsessed with these and the ankle strap! If you are in-between sizes, choose half size up.
#5
Top: Only $22! I was so surprised at how pretty this was in person! I love it! Wearing a Small!
Jeans: AG, Size 27. Favorites form he sale so far.
Boots: Again, so great for small calves and thighs!
#6
Sweatshirt: Such a fun and cozy sweatshirt. Wearing a Small. Also comes in one that says "The Blonde"
Jeans: AG again!
Booties: Best booties! Trust me!!
Please let me know if you have any questions about sizing or shopping the sale!